Sailing School
Advanced Docking & Motoring (Includes ASA-118 Docking Endorsement)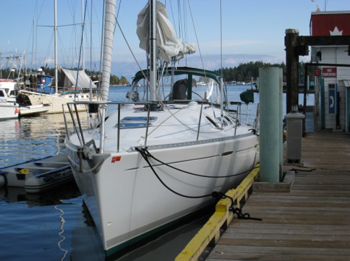 Prerequisites
Bareboat Chartering (ASA-104) or Equivalent Experience.
Schedule & Crew
This is a single-day, 9am to 5pm course, with four students and one instructor aboard.
Description
This course will enable you to control your vessel in close quarters maneuvering, instead of the other way around. It is one of the few classes that you will use every time you depart or arrive at a dock—and most students are pleasantly surprised to find themselves at an advanced—or even expert—level at the end of this fun session. More so than any other class, students in this course are extremely motivated. It's a fun class.

Following a short discussion about the 4 forces at work while motoring (prop walk, prop wash, wind, and current) we will review the basic undocking and docking techniques on our vessel. This is a "hands-on" class, so you will be doing all of the driving. One or two reps are usually sufficient to master the technique at hand. However, there is always time for questions and additional repetitions. We have the luxury of ample time in this course.

You will practice fairway turns and backing the boat, and then we'll move into a series of drills designed to lead you to mastery of these docking situations: upwind, downwind, crosswind, portside-to, starboardside-to, bow-to, and stern-to. Your final exercise will be backing your vessel into a slip with confidence and authority—twice in a row so you know it wasn't just a lucky attempt.

You'll take the short written exam, grade it, and then proceed directly to your graduation ceremony: High fives, big grins, and hugs.

Review the complete ASA course description with a knowledge and skills list.
What Boats are Used
In this class, you will learn on a Gold Fleet boat.
When You Complete this Course
Passing this course, along with a Bareboat Certification allows you to check out on our largest and newest boats, in the Gold Fleet.